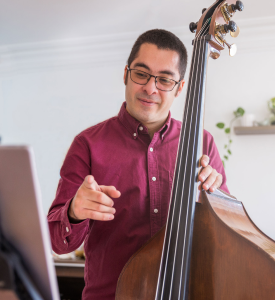 Mentors
Mentors are artists and teachers with significant professional experience who are here to help you as your online coach. They may be college or university faculty or members of your community who teach privately.
Our mentor pools provide affordable one-on-one online mentoring sessions scheduled on your own time and location. We encourage you to examine their backgrounds and strengths and enrich your skills and understanding of your chosen instrument with their guidance.
Mentors In Applied Music for College Students
The Applied Music program gives music major and non-major college students access to mentors that would otherwise not be available to them and that can help them reach their goals at higher education institutions.
The program also includes a customizable, curated, and structured curriculum in performance techniques, practice routines, repertoire, music fundamentals, and much more. The C4E Applied courses are built for sequential study using repertoire materials from the ABRSM. This leveled approach helps students, with the support of a mentor, set goals and evaluate progress as they work asynchronously through the course.
Mentors for K-12
C4EStudio focuses on the development of the musician through a leveled pedagogical system that offers discipline–specific repertoire, exercises, and individualized instruction with experienced mentors.